Clicking on the add to cart buttons will take you to Paypal for checkout. Please use the contact us page to ask questions about the books or book ordering. Thanks.
---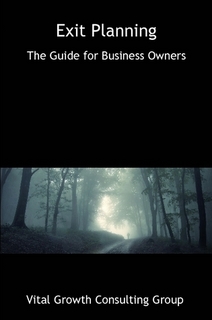 Exit Planning: The Guide for Business Owners addresses the strategic, financial and personnel issues of planning a successful exit from your business. If you are an owner or an advisor to owners this book will guide your thinking about the major challenges faced when exiting a business in an increasingly challenging business environment.
You may also purchase this book at Lulu.com by clicking on the icon below.
---
---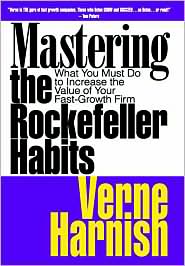 Business guru Verne Harnish's firm Gazelles has brought hundreds of businesses to fast-growth profitability. Now he shares entrepreneurial secrets in this must-read business primer. Harnish has discovered John D. Rockefeller's underlying strategy. Further study uncovered three winning habits:
Priorities: A few rules remain consistent with a firm's core values and long-term goal. Others change regularly — what Harnish calls the Top 5 and Top 1 of 5.
Data: Key metrics should be measured over time (Smart Numbers); short-term metrics provide a tighter focus on an aspect of the business (Critical Numbers).
Rhythm: A well-organized set of meetings keep everyone aligned and accountable.
In addition to case studies, a bonus chapter co-authored by Rich Russakoff reveals winning tactics to get banks in competition to finance your business venture. MASTERING THE ROCKEFELLER HABITS provides necessary tools for making strategically smart decisions and for keeping everyone aligned and accountable to those decisions.