Date/Time
Date - 05/14/2015
Time - 8:00 am - 9:30 am
Location
Santiago Room -- IOS Building, Fleet Street
Categories
Join a select group of professionals to discuss What Matters Now: How to Win in a World of Relentless Change, Ferocious Competition, and Unstoppable Innovation by Gary Hamel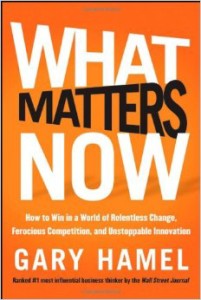 While you are certainly welcome to read the book, don't feel you have to. After introductions, we'll start the book club with a audio review/summary of the book and we'll also handout a detailed written review/summary.
Date, start/end time and location are listed above. Send an email with any requests for coffee/tea and/or pastry and we'll do our best to honor them. You can also use the email link to ask any questions you may have. Come join us!
Registration
Registrations are closed for this event.