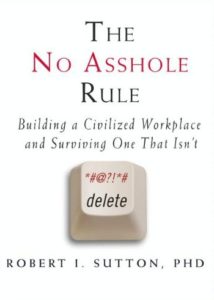 Originally published in 2007, The No Asshole Rule: Building a Civilized Workplace and Surviving One That Isn't by Robert I. Sutton, paints a compelling picture of how hiring and retaining even one asshole undermines the performance of your organization.
The decline in performance spans both the departments with an asshole in residence and those departments that have or avoid relationships with the offending department. And that decline includes increased rates of turnover, theft, and lawsuits along with decreased productivity and resilience. Not to mention the personal toll for "targets" of psychological distress and dissatisfaction.
The book does a great job of laying out how to identify assholes, how to implement the "rule," how to reform your own "inner jerk," and how to survive in an environment that hasn't followed the "rule."
None of the advice is better than the need to take strong action against assholes in the interest of improved organizational performance. Chances are you already know how to identify who there are (people who are less powerful than them report feeling, more than rarely, slighted, demeaned or downright bullied).
Perhaps the book will convince you that it's worth your while to take action for the benefit of the non-assholes in your ranks and enforce the "rule" going forward! Perhaps you'd like to take the ARSE (Asshole Rating Self-Exam) or have a co-worker take it?
If you'd like help identifying assholes before you hire them or letting one go, give us or some other coach a call. We think you'll be glad you did.